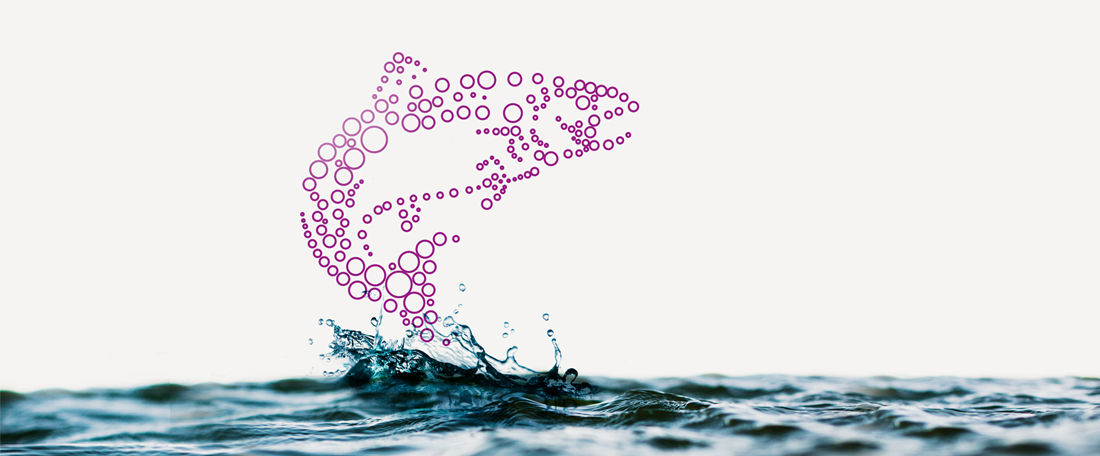 Sustainable aquaculture through the use of peroxides
Smart aquaculture solutions 
Evonik Active Oxygens supplies smart aquaculture solutions based on hydrogen peroxide and peracetic acid for water quality control in fish, seafood, and shrimp farming. Our peroxides also disinfect processing equipment in aquaculture and fish farming.
Smart aquaculture solutions have significant potential to meet the food and feed demands of a growing world population. Yet successful and responsible farming of fish and shrimp can present a range of challenges — from animal health and nutrition to water quality control and clean processing and packaging.
Discover our smart peroxide solutions for the aquaculture and fish farming industry
VIGOROX® Trident peracetic acid for RAS and pond system disinfection
VIGOROX® Trident is a peracetic acid solution for recirculating aquaculture systems (RAS), pond systems, and egg hatcheries. EPA-registered for use in the presence of fish, VIGOROX® Trident can be dosed directly into the tank. It has a low toxicity potential to salmon and similar fin fish, with a no-observable-effect concentration below 3.5 mg/L. Yet it is a highly effective biocide capable of treating a wide range of pathogens that can occur in RAS and on processing equipment.
After use, peracetic acid rapidly breaks down to water, oxygen, and acetic acid, thus requiring no additional steps to clean up any chemical residues.
ASPERIX® Vet: hydrogen peroxide to combat sea lice
ASPERIX® Vet is an effective and sustainable disease treatment solution against sea lice infestation in fish farming. The high purity special hydrogen peroxide grade for sea lice control is produced according to GMP standards for the fish farming industry.
ASPERIX® Vet is a prescription, licensed veterinary drug. It provides immediate results after sea lice treatment without waiting time, so that the fish can be harvested shortly afterwards. There is no chemical accumulation in the food chain. After processing, the hydrogen peroxide decomposes into the harmless substances water and oxygen, which means that it does not disturb the ecological balance and is therefore harmless to water and its aquatic life.
AQUAVI® Pro-Pond probiotic for removing nitrogen compounds in water
Click here to learn about AQUAVI® Pro-Pond from Evonik's Animal Nutrition business line.
Get in touch
Perhaps we already have a smart aquaculture solution through peroxides for your specific request. Or may be you have a great idea and would like to partner up with us to develop a special aquaculture solution. We would love to hear from you!