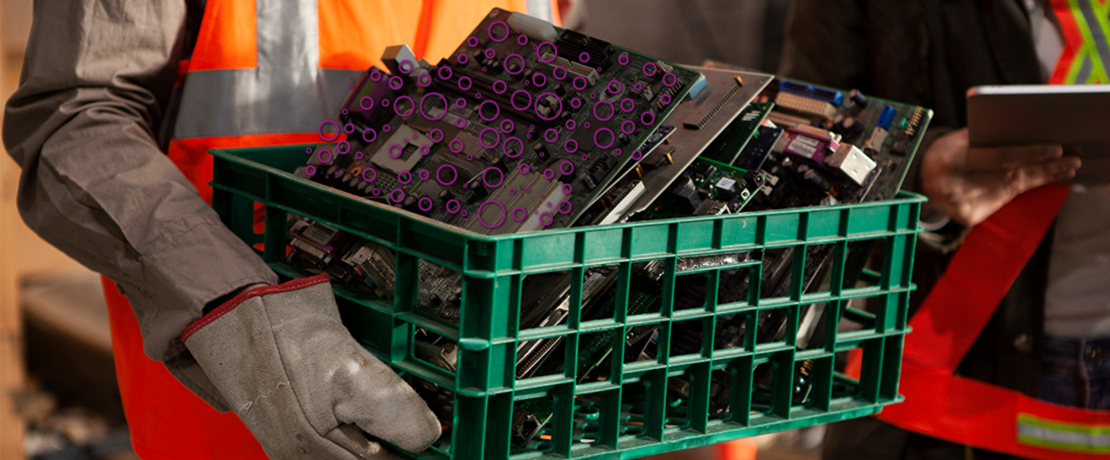 Recovery of raw materials
Recycling
Hydrogen peroxide is used in recycling applications such as reusing plastic waste, recovering valuable materials from electronic waste, or decolorizing paper in the reprocessing process.
RECYCLING OF WASTE, PAPER, ELECTRONIC SCRAP, METALS AND PRECIOUS METALS
Recycling is the process of separating materials from waste designated for disposal and converting them into usable or marketable materials. Recycling is often referred to as "urban mining" and values waste as an important raw material. Urban waste, for example, contains enough precious metals, rare earths, and other important materials to meet our industrial needs if they could be fully recovered.
City waste holds, for example, enough precious metals, rare earth elements and other key materials to cover our industrial needs if they were to be completely recovered. Such nonferrous materials as gold, platinum, copper, rare earth and other precious metals are successfully extracted from electronic waste, such as computers or cell phones. More than a third of solid municipal waste is made of paper. Recycling this paper in comparison to paper manufacturing reduces air and water pollution. Worldwide use of recycled paper has doubled over the past 20 years and is expected to grow further.
Hydrogen peroxide is applied as an environmental benign oxidant in many recycling processes. Such processes as de-inking in paper recycling as well as recovery of valuable non-ferrous metals from electronic waste are the most striking examples. Hydrometallurgical processing of electronic waste from scrapped electronic boards and components resembles the leaching process in the mining industry.
A mixture of sulfuric acid and hydrogen peroxide, which is also known as Caro's acid, is used successfully to solubilize metallic copper and other metals to the corresponding salts. Oxidative hydrometallurgical treatment is the most economically method to treat old solar panels for recovering such elements as indium, gallium, selenium, tellurium, cadmium or molybdenum. These can be used for production of new solar panels or for other applications.
For recycling applications, depending on purity requirements, Evonik recommends the use of the standard grade HYPROX® or the high purity grade PERSYNT®. For recycling applications in the electronics industry we recommend our electronic hydrogen peroxide grade  PERTRONIC®.