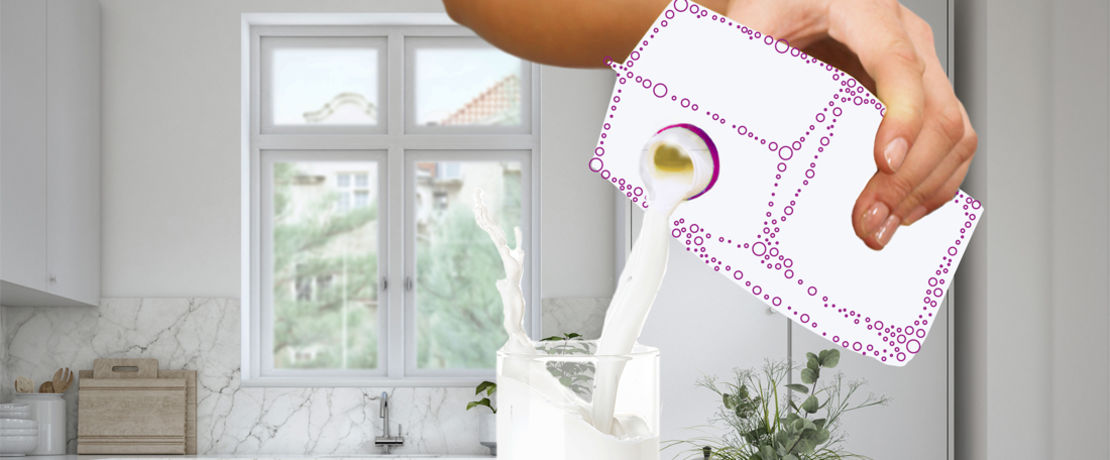 H2O2 for safe beverage and food packaging
Aseptic Packaging
From a morning orange juice to a glass of milk to an invigorating energy drink: we all rely on beverages and dairy products to be refreshing and safe. We provide beverage and dairy manufacturers with aseptic solutions that treat harmful microorganisms cost-effectively and easily for safe food and beverage products.
Extended shelf life and freshness of packaged foods
From closure systems to bath, spray, or vapor sterilization of cartons or PET bottles, Evonik offers a robust portfolio of peracetic acid and hydrogen peroxide based sterilants and sanitizers to meet the evolving demands of low-acid, high-acid aseptic, and extended shelf life applications in the beverage packaging market. Evonik's hydrogen peroxide and peracetic acid sterilants provide optimal sterility that meet your aseptic beverage packaging needs, yet have minimal environmental impact, by breaking down into benign byproducts after use.
Aseptic packaging is used to protect food and beverages by eliminating contaminating bacteria all along the supply chain. It guarantees a high quality of the packed food stuff combined with a long shelf life. As consumer demand grows for preservative-free 'natural' beverages and for products with additional benefits, nowadays a vast variety of food and beverage products are aseptically packaged in cartons, pouches, cups, or bottles. Aseptic packaging utilizes H2O2 or PAA for the sterilization of packaging material and machines without additional thermal stress or added preservatives to the bottled beverages. 
Close cooperation with customers
Evonik is a trusted partner to the aseptic packaging and commercially sterile food industries, supplying OXTERIL®, DUROX®, and CLARITY® products with superior quality and outstanding technical service, specially designed for the use in state-of-the-art aseptic packaging technologies. Our continuous product innovation in close cooperation with our customers and leading aseptic machine manufacturers (OEMs) allows us to provide technology tailored cutting-edge products for aseptic packages in order to accompany today's market trends and meet industry requirements of well-known food, beverage, and dairy manufacturers.
Our Products
OXTERIL® meets all the requirements listed in the Food Chemical Codex and can be used in all uses under 21 CFR §178.1005. 
In Europe in accordance with BPR (Biocidal product registration), aseptic packaging represents a biocidal application, which is classified in "Main group 1: Disinfectants, Product type 4–food and feed area." Evonik applies for the Union Authorization under the BPR, including product type 4 for OXTERIL®.
OXTERIL® Bath and OXTERIL® Spray
Tailor made hydrogen peroxide grades for the individual immersion-bath or spray process with regards to product stability, residues and packaging line effectiveness.
OXTERIL® Spray S
High purity product characterized by extremely low evaporation residues, increased machine running times and reduced cleaning efforts in advanced spray and vapor aseptic packaging systems. Therefore, this grade is especially suitable for dry disinfection processes.
AOPACK®
AOPACK® is formulated for immersion-type aseptic packaging equipment and its stability is well balanced to maintain hydrogen peroxide assay levels. 
OXTERIL® meets all the requirements listed in the Food Chemical Codex and can be used in all uses under 21 CFR §178.1005. OXTERIL® grades are U.S. EPA registered for the use in aseptic food processing operations to achieve commercial sterility of food packaging and equipment. OXTERIL® grades are available in a variety of concentrations. 
OXTERIL® LRA
OXTERIL® LRA hydrogen peroxide is a high purity grade designed to meet the performance attributes of advanced spray and vapor aseptic packaging systems. OXTERIL® LRA is formulated to leave minimal residue on spray nozzles and vaporizer surfaces while exhibiting excellent stability with stainless steel. This translates into improved efficiency and reduced machine maintenance.
OXTERIL® LRA-S
OXTERIL® LRA-S hydrogen peroxide is made from specially purified feed, and it will leave little or no residue when it is sprayed or vaporized. The superior purity makes OXTERIL® LRA-S particularly suitable for the machines that are sensitive to dry residue formation.
OXTERIL® LRD
OXTERIL® LRD hydrogen peroxide exhibits excellent stability for applications requiring prolonged contact with stainless steel surfaces and high temperature environments. OXTERIL® LRD has been formulated for use in vapor, spray and bath applications of aseptic packaging where low residue and high stability performance is required.
CLARITY® and CERTAINTY® are peracetic acid antimicrobial agents and sterilants that are EPA-registered and FDA-approved for use in beverage and dairy applications to sterilize packaging materials including PET, HDPE and foil, closure systems, and filling equipment for low or high acid aseptic or extended shelf life (ESL) products. CLARITY® and CERTAINTY® are approved by leading manufacturers of PAA wet rinse aseptic filling systems.
Over the years, PERACLEAN® products have proven to be highly effective for biocidal applications in the food and beverage industry. They are used to disinfect or sterilize equipment, surfaces, tanks, pipes, and plastic bottles. In food and beverage processing, the use of peracetic acid in CIP or SIP (cleaning or sterilization in place) systems is standard. Disinfection is carried out according to a fixed procedure. The entire process has been developed to meet the strict hygiene regulations. 
Global availability of our Aseptic product portfolio
Sustainability aspects of aseptic packaging
H2O2 or PAA in aseptic packaging transcend the functional role as a sterilizing agents. It exemplifies the fusion of technological advancement and environmental consciousness. The sustainability advantages of hydrogen peroxide and peracetic acid in aseptic packaging are manifold, ranging from its eco-friendly nature and reduced environmental impact to energy efficiency, extended shelf life, and alignment with circular economy principles. As industries and consumers alike strive to embrace greener practices, hydrogen peroxide and peracetic acid emerge as a shining example of how innovation can pave the way for a more sustainable future in packaging and beyond.
Sustainability is at the core of futurizing our business. Because our peroxides break down into only biodegradable substances, the use of our products contributes to more environmentally friendly industrial practices. And on the production end, we want to be 100% carbon neutral by 2040.