Sanitizer, Disinfectant, Sterilant, bleach
Peracetic Acid
Our peracetic acid (PAA) is a liquid mixture of hydrogen peroxide and acetic acid (vinegar). The fundamental way to deliver oxygen, by organic peroxide is present in chemical and industrial processes everywhere we look.
As a leading manufacturer and supplier of hydrogen peroxide and peracetic acid, our knowledge of oxygenation and oxidative chemistry is developed, backed and delivered by special peroxide engineers, chemists, business people, and technicians with decades long accumulation of experience in peroxide chemistry.
WHAT IS PERACETIC ACID USED FOR?
The chemical is used as a sustainable biocide for aseptic packaging of food and beverages, in cosmetics and for hair bleaching, for environmentally friendly water and wastewater treatment, for sustainable aquaculture solutions, for disinfection in agriculture, for chemical synthesis, for sterilization in hospital hygiene or for cleaning and disinfection of laundry and textiles.
About peracetic acid
Peracetic acid is a versatile oxidizing agent that dissolves easily in water and decomposes into non-toxic by-products. Evonik is one of the leading producers of peracetic acid and has developed a wide offering of high quality products, ranging in concentration from 5% to 40% peracetic acid in equilibrium solution.
The different concentrations are used in chemical synthesis, bleaching, sanitization, disinfection, hygiene and sterilization across a variety of industries, including food and beverage such as fruit and vegetable processing, poultry processing, environmental remediation, industrial cleaning and sanitization, and oil and gas production.
Evonik is an innovative supplier of high quality peracetic acid, offering more than a century of worldwide experience in active oxygen chemicals. Various grades and several tailor made recipes are available under the following tradenames: PERACLEAN®, SPECTRUM®, BLITZ®, CLARITY®, VIGOROX®, and OXYPURE®.
The Production Process of Peracetic Acid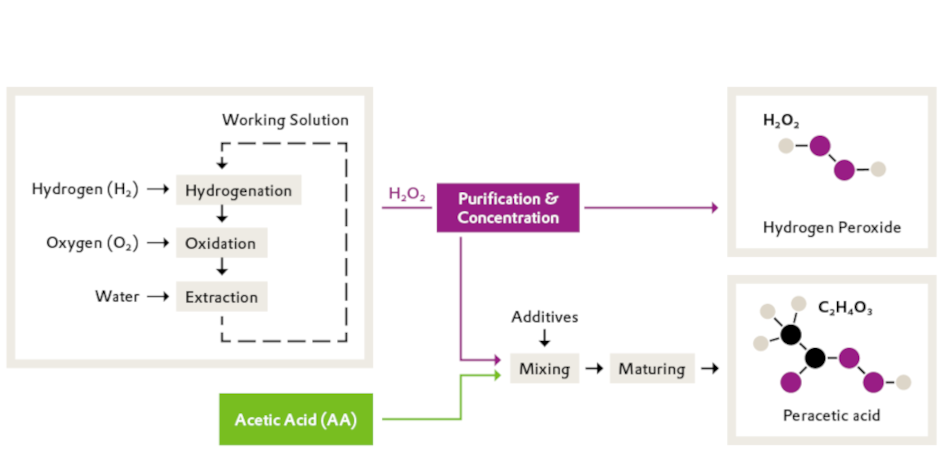 Registration of our peracetic acid as a biocide  
OUR MAIN PERACETIC ACID PRODUCTS and solutions
PERACETIC ACID PRODUCTS TAILORED TO CUSTOMER NEEDS
Our experts for peracetic acid and other peroxides have in-depth knowledge in developing individually formulated grades for specific peracetic acid applications. 
Please contact your regional sales manager for information on a specific PAA product that is best suited for your case of application. This contact will also provide you with the respective materials such as safety data sheet  or further technical and commercial information about Evonik Active Oxygens' products.