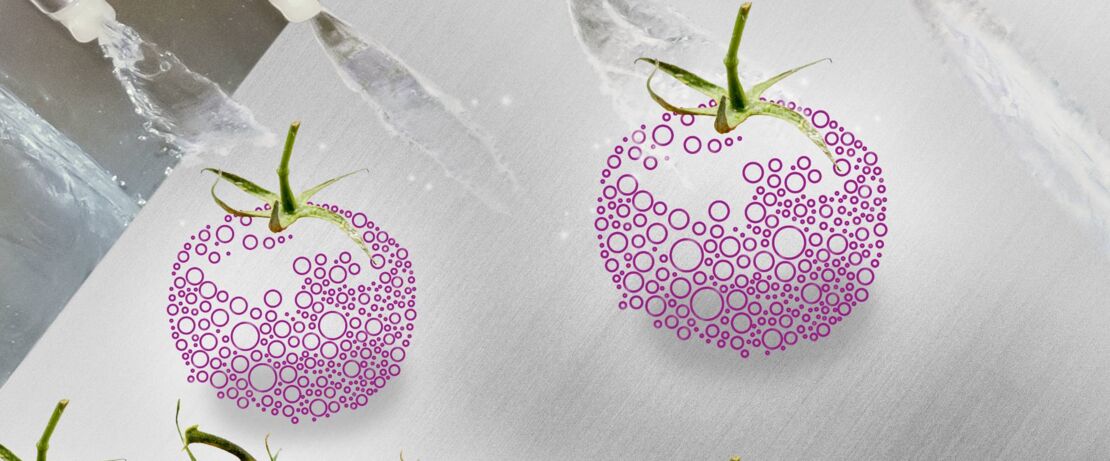 Longer shelf life of fruits and vegetables
Post-harvest washing water
Peracetic acid and hydrogen peroxide in fruit and vegetable washing and processing serve as post-harvest protection by combating pathogens in the washing water and on the food. This reduces crop loss, increases food safety, and ensures longer freshness and shelf life.
Peracetic acid and hydrogen peroxide in post-harvest washing and processing
After fruits and vegetables are picked in the field or orchard, they need to be washed to free them of biological or agricultural contaminants. This post-harvest treatment extends the freshness of fruits and vegetables — from the time they are harvested, through transportation and storage, to the time they are consumed. 
In our fast-paced daily lives, many people are turning to convenience products that need to be ready-to-eat but still fresh and safe. The demand for fresh-cut fruit and vegetables is constantly increasing, and with it, of course, quality requirements. More and more farmers and consumers are seeking resource-conserving, chemically safe food treatment that does not require chlorine-based additives for disinfection.
The use of peracetic acid and hydrogen peroxide in the washing water of post-harvest fruit and vegetable processing can increase food safety and secure yields. This is achieved by using peracetic acid and hydrogen peroxide as disinfectants to eliminate pathogens and prevent cross-contamination via the washing water.
Peracetic acid and hydrogen peroxide provide greater food hygiene, helping prevent foodborne illness. Hydrogen peroxide is a gentle yet highly oxidative disinfectant that combats, for example, noroviruses, which are otherwise quite hardy — for example, they can withstand freezer temperatures as low as -20 °C. Hydrogen peroxide can be used in wash baths and cold fogging of fruits and vegetables for sterilization. Peracetic acid is likewise a powerful oxidant that improves post-harvest handling by extending the shelf life of field products without leaving questionable residues on them or in the wash water.
Peracetic acid for post-harvest recycling of washing water
Water is a precious resource. Effectively treating it for reuse in agriculture helps reduce consumption of freshwater resources and counteract the increasing scarcity of water.
During post-harvest recycling of washing water, pathogens, pollutants, and organic waste products are removed. This includes applying peracetic acid to clean and disinfect the recycled water. After use, peracetic acid breaks down into only biodegradable substances: water, oxygen, and vinegar. Thus no further cleanup steps are required.
Products
| | | | |
| --- | --- | --- | --- |
| | | | |
| | Extending the shelf life and minimizing losses of agricultural products | | |
| | Disinfection of waste water and recycling water reprocessing | | |
| | Preservation of freshness in pre-processed fruits and vegetables | | |
Depending on the type of fruit and vegetable, we usually offer our peracetic acid products in concentrations of 5 and 15 %.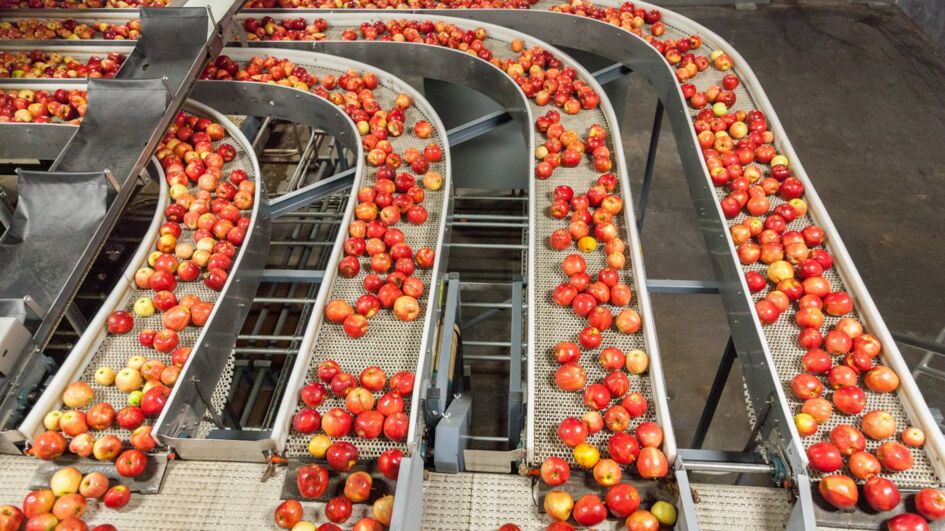 Since a disinfectant in washing water that comes into contact with fruits such as apples must both thoroughly clean and be harmless to health to prevent disease, the fruit and vegetable processing industry is increasingly turning to ecologically safe yet highly effective products such as peracetic acid and hydrogen peroxide.
Key benefits of peroxides in postharvest protection
Control of foodborne infections and diseases in humans
Reducing the risk of cross-contamination
Longer shelf life of fruits and vegetables
Less yield loss
Sustainability aspects of peroxides in postharvest washing water
Since the 1950s, the per capita consumption of fruits and vegetables has more than doubled in the face of a growing world population, with a steady increase in the consumption of organic products. This makes it all the more important to offer shelf-stable and germ-free products for a healthy lifestyle, even in a plant-based nutrition.
Disinfection of post-harvest washing water is absolutely necessary to kill harmful microorganisms such as fungi, bacteria, and spores on the surface of crops. Peroxides such as PAA and H2O2 are environmentally friendly disinfectants that leave no harmful residues on fruits and vegetables and decompose into water, oxygen and vinegar after consumption.